I saw a beautiful fruit tart today, but I didn't buy it. Though one brief glimpse of its light crust, glistening white cream & assorted seasonal berries and our whole intense love affair came rushing back.
It's the mid 1970's. The place: Patrick Terrail's West Hollywood restaurant Ma Maison. An old house on Melrose converted into the most innovative, modern French restaurant of its day. It was so very French and so very Hollywood, and when those two worlds collided on that patio of Astroturf and umbrellas, it was magic.
Big Hollywood deals were made, infamous fights broke out, and occasionally I was lucky enough – if someone with more money was paying—to be there, enjoying the food. That's where it began – an infatuation that would turn into a stalker's obsession. They had me at crème anglaise.
I was there a lot with Jackie Mason, which sounds so random, sort of like my celebrity dreams, but he was a friend of my dad's and we went as his guest, or vice versa. Often, when we were at a meal with Jackie, he would do his bit:
Gentiles never finish drinking, Jews never finish eating. What do you think Jews talk about for breakfast? Where to eat lunch. At lunch: "Where should we have dinner?"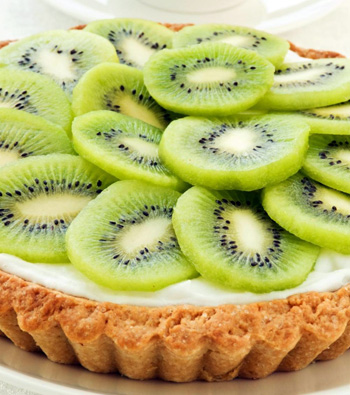 By the early 80's, there were some truly great restaurants in Los Angeles, all serving fruit tarts. When I was enormously pregnant and days late for the delivery of my first child, I ordered a kiwi tart – a pie-sized one, not some dainty little individual tart. For myself. From The Ivy. Next day, I went into labor. Huge deep pains woke me from sleep. I had been dreaming that a dog's tail was hitting me in the stomach. Contractions. I was excited, nervous and definitely not handling the pain well. It took my breath away and I forgot everything I learned in Lamaze class. The father (my ex) drove me to Cedars, just blocks from our house.
After a quick exam they said nothing was going on, no dilation at all, I should come back much later. On the way home, I remembered my Ivy tart, freshly baked that morning. "Oh, I need to make a stop." I carried that big bakery box, using my huge contracting stomach as a shelf, and waddled back to the car. Doctors had warned me not to eat in labor. Ha, right. I came straight home and cut myself a big old slice. Eating and screaming at the same time. Tragic, the rest of it went uneaten as I had a C-Section and stayed in hospital for 5 full days.
When I got married exactly 9 months before giving birth (this close to being labeled a tart myself) I had huge rows with the caterer over, what else? Fruit tarts. Yes, I insisted that everyone get one of those dainty little individual ones, but because of my budget all she could do were sheets of tarts. I dug in my heels. She dug in hers. Her heels won. But to be fair, she fought hard against having fruit tarts at all because it would be hot (August) and the crème anglaise (she called it pasty cream) filling might spoil in the sun.
My about-to-be mother in-law, I call her Gourmet Grandma, stepped in. She begged me to fire my caterer. She said she wanted to ask her "friend" Wolfgang Puck to come and make pizzas. The name did not ring a bell even though I had eaten at Ma Maison (see above) where Mr. Puck apparently held the titles of, ahem, chef and co-owner. Guess I was too busy eating to know whom the artist in the kitchen was.
"Pizzas?" I gasped. "I hate pizza, are you kidding?" Besides… Italian food made by a guy named Wolfgang? Get real. Gourmet Grandma told me these were not your everyday pizzas. She told me her friend Wolfgang was about to open a restaurant on Sunset where he had built special ovens to make his inspiring gourmet pizzas. Enough, I wasn't having any of it. Anyway, that's how two months before its grand opening, I nixed Spago's soon-to-be world famous chef as my wedding caterer.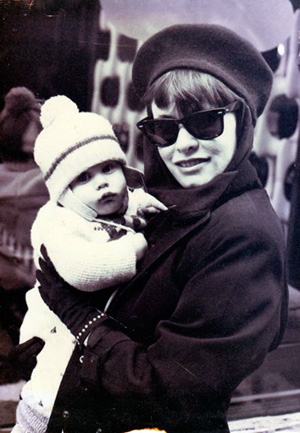 Guess I inherited this talent for overlooking talent from my dad. In the early 60's, as a business partner of the legendary rock & roll DJ Alan Freed, he was invited by Brian Epstein to take a look at an unknown British rock group in a London nightclub. Would he perhaps like to help bring them to the U.S.? Yes, that's my dad. The short bald guy with the cigar giving a thumbs-down to the Beatles.
Some of my more health-conscious girlfriends at the time had fruit tart envy, but like most actresses they feared gaining weight. It was a phobia I didn't share. We would often eat at the ultra-chic Charmers Market in Venice. I ate Eggs Benedict, afterwards topping it off with my favorite, a kiwi fruit tart. My friends and I looked oh so hip, sitting there in this ahead-of-it's-time outdoors foodie market. I would bring my newborn Oliver, and carry my groovy-must-have-diaper-bag of the moment. Now, when I eat at a trendy spot like Gjelina on Abbott Kinney and look around at all the young hipsters sporting their beanies and tats, I realize that we were once them.
Like all my food obsessions my tart addiction eventually wound down. Sometime in the late 80's it was replaced by the chocolate souffle and I never minded getting my fix from Moustache Café on Melrose. Though I did prefer them from The Bistro Garden, the Beverly Hills restaurant on Canon Drive that would eventually give way to Wolfgang Puck's new Spago, which in turn generated another dessert fixation of mine – kaiserschmarren!
Well, time flies when you're talking food. It's now 10 o'clock at night. My dessert hour. And at the moment I am seriously craving something sweet. Damn, I should have bought that fucking tart!
Wolfgang Puck's Kiwi Fruit Tart Dessert Recipe
Serves 6
Ingredients:
1/2 recipe Sweet Pastry Dough (recipe follows)
4 cage-free eggs
1 cup organic heavy cream
6 ounces granulated sugar
4 teaspoons pear brandy
8 ripe kiwi fruit, peeled
2 tablespoons confectioners' sugar
Preparation:
Preheat the oven to 350 degrees F.
Meanwhile, with a rolling pin, roll out the dough to fit a quiche pan 10 inches in diameter and 1-1/2 inches deep. Crimp the edges and remove excess dough. Line the dough with parchment paper or aluminum foil and fill it with aluminum baking beans, dried beans, or uncooked rice. Bake until the pastry is browned, 15 to 20 minutes. Remove the pan from the oven and reduce the oven temperature to 325 degrees F. Remove the paper or foil and weights from the pastry.
In a small mixing bowl, use a whisk to stir together the eggs, cream, sugar, and brandy just until blended. Place a fine-meshed strainer over another bowl and pour the mixture through the strainer, pressing it through with a rubber spatula.
Cut each peeled kiwi crosswise into 4 slices. Arrange the slices neatly in the prebaked pastry shell. Pour the egg mixture over the kiwi. Bake until the egg mixture is puffy, golden, and set, 45 to 50 minutes.
Remove the tart from the oven and turn on the broiler.
Hold a small, dry fine-meshed sieve over the tart and spoon in the confectioners' sugar. Tap the side of the sieve to dust the tart filling evenly with the sugar. Put the tart under the broiler and broil just until the sugar melts and the filling looks lightly glazed, no more than about 1 minute, watching carefully to avoid burning. Remove the tart and cool on a wire rack before cutting and serving at room temperature.
Sweet Pastry Dough Recipe
Makes 1 Pound
Ingredients:
1/2 pound (1-3/4 round cups) unsifted all-purpose flour
5 ounces (10 tablespoons) chilled unsalted butter, cut into 5 pieces
1/4 cup sugar
2 or 3 drops vanilla extract
2 cage-free egg yolksv 1 to 2 tablespoons water
Preparation
Put the flour, butter, sugar, and vanilla in a food processor fitted with the stainless-steel blade. Process until the mixture resembles coarse meal, about 15 seconds.
In a small cup, lightly beat together the egg yolks and 1 tablespoon water. With the processor running, pour the yolk mixture through the feed tube and continue processing until a ball of dough forms that rides around the bowl on the blade; if necessary, add up to 1 tablespoon more of the water until the dough comes together.
Wrap the ball of dough in plastic wrap and refrigerate overnight before use. For a single-crust tart, which requires just 1/2 pound of dough, divide the dough in half. Rewrap the second piece of dough airtight and refrigerate or freeze until ready to use for another recipe.
Tags: Bistro Gardens Restaurant, Charmers Market Restaurant in early 80's, fredde duke, Freddie Duke, Freddy Duke, Kiwi Tart recipe, Ma Maison in the 70's, Spago, The Ivy Restaurant, Wolfgang Puck, Wolfgang Puck's kiwi tart recipe